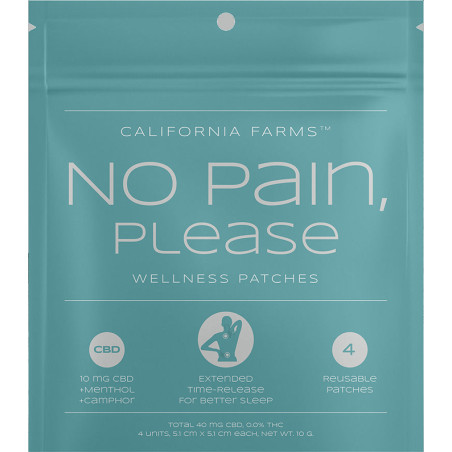  
NO PAIN, PLEASE
HOW TO USE
Unpack, stick and forget. Apply the CBD patch to the painful area. Can be worn for up to 12 hours, can be reused even twice. Do not apply the patch to damaged or irritated skin.
You don't have to suffer from pain anymore, the combination of CBD, menthol and camphor will help you.
Number of pcs in the package: 4
Dosage: 10 mg of CBD in one patch
Format: Transdermal
Type: CBD Isolate
Contains Menthol and Camphor
Matrix transdermal patches are made from a medical grade hydrogel that contains 25% water to promote effective absorption into the bloodstream. The CBD patch will relieve pain and by using it you will achieve better muscle relaxation. And best of all, each patch is reusable!
No customer reviews for the moment.
Customers who bought this product also bought:
1 other product in the same category: